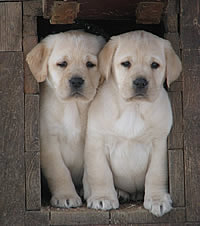 Mallorn's labradors are located in the Finnish Lappland, 20 km from Rovaniemi. This is in the north of Finland, very close to the arctic circle.
We breed puppies for showing and breeding, and of course to become your companion and pet. You can make enquieries by email or telephone.
If you want to get a Mallorn's puppy, be prepared to travel to my place to pick him/her. Fresh chilled semen can be shipped worldwide but not live animals.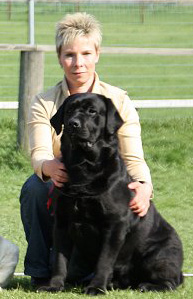 ****
"A Short Mallorn's story "
I have bred labradors for almost 30 years, I got my first labrador 1980 and my first litter was born in 1983. I started with chocolates, as my foundation bitch was a chocolate, but the colour wasn't really so important to me. Actually I was looking for a black bitch to be my foundation, but the breeder only could offer
me a chocolate! Of course I like the colour very much, but I try to breed in all three colours, and I don't really have a favourite colour.
I also have a couple of jackrussells terriers, the first one came from Australia 2002 and now I have 4 generations of them. They are lovely little dogs and great fun!
This breed is becoming very popular in Finland, and there are a lot of similarities in breeding labradors and jrt's, but the big difference is that the jackrussels
have been a registered breed in this country for only 10 years, while labradors have such long traditions and history.
We live in Lapland, very far in the north of Finland, but I still try to show my dogs in most Finnish specialities and big international shows. It's a long way, a 12 hours drive to most shows… Earlier I tried to make my dogs qualified in the field for the FIN CH –title, but I must admit that I have become lazy with age… In Finland we need 3 CC's and a working qualification in a cold game test for the Champion-title. Most of my dogs have at least the CC's. As we have two kids, Arttu was born 1996 and Roosa 1998, and we have a husky safari business with my husband Jukka, I haven't been able to travel so much with my dogs outside Finland. My husband has a big sleddog kennel and he does some long distance racing, too. We are a very "doggy" family! I have been very much involved with the Finnish Labrador Club, being a board member from the beginning of 90's, I was the chairman of the breeding committee for almost 10 years, and since 2003 I have been the chairman of the Club.
I have had "Show Labrador of Year" in 2002, 2003, 2009, 2013 and 2014, and bred the "Show Labrador of Year 1994". I have bred a number of Finnish Champions, a couple of International Champions and many Champions in other countries, including Sweden, Norway, Germany, Holland, Hungary, Estonia, Russia, Belarus, Japan, Philippines… I am deeply grateful to all my wonderful puppy buyers all over the world, for the great job they have done with dogs by my breeding!
The story of my kennel wasn't really just glamour and winning from the beginning… I had some luck with my first litter in 1983 – it's like someone would like to make sure you get really hooked in this hobby! But then I had a long period of bad years, with disappointments after disappointments. It seemed almost impossible to breed or buy a healthy, goodlooking labrador… I couldn't keep very many dogs at a time, so every time I failed with a dog I had to start all over again with a new puppy.
But when you are really committed and know what you want, you will get it eventually, if you are stubborn enough and prepared to work hard…! Finally I found a nice black bitch who is the foundation of my "black line", and I bought two chocolates from England who were the new start of my chocolate line. I bred these two bitches back to my old chocolate lines to get my foundation line back, and I have also combined these lines to my black/yellow lines with very good results.
I have done some occasional judging in Open Shows, Club Shows and other unofficial events. I thought that trying to become a judge would be my next challenge, but you never know what life has to offer... In 2007 my daughter wanted to get some riding lessons. I took her to the local riding stables, she loved it and soon
I was back in the saddle, too, after a 25 years brake! First we bought a very nice finnhorse, and 2 1/2 years later we bought another horse, and we have
enjoyed every minute... As there is only a limited amount of hours in a day, I guess I need to forget about judging!
Anu Honkapirtti
Mallorn's labradors